What is ISEB?
The Independent Schools Examinations Board (ISEB) is probably best known for producing the Common Entrance examinations, in which boys and girls sit to gain entry to some of the best independent schools in the UK and overseas. The examinations are set by highly qualified and experienced teachers from the country's leading schools and are widely regarded as the gold standard for assessment at 11+ and 13+.
Common Entrance is the name for boys and girls' examinations for entrance to senior independent schools at 11+ or 13+. The syllabuses are devised by the Independent Schools Examinations Board, which is composed of the three associations representing independent schools in the country: The Headmasters' and Headmistresses' Conference, The Girls' Assoand The Independent Association of Prep Schools. The board's examiners set the papers, but the answers are marked by the senior school for which a candidate is entered.
Candidates may normally be entered for the Common Entrance exam only if:
they have been offered a place at a senior school subject to their passing the examinations
or
they are entered for internal marking, in which case the candidate's junior school marks the papers
The examinations are usually taken in the candidate's current school. 11+ candidates sit examinations in English, Mathematics and Science when they are in Year 6, usually for girls' schools. 13+ candidates also sit examinations in these core subjects, alongside papers selected from a wide range of humanities, languages and classical subjects.
The 11+ examinations may be taken in the autumn or spring term of Year 6 before entering senior school the following September. The 13+ examinations are taken in the autumn, spring or summer term of Year 8, again before entry to senior school. Senior schools decide at which stage in the year the examinations are to be taken.
https://www.iseb.co.uk/Parents/What-is-Common-Entrance
Common Pre-Tests:
Overview
The Common Pre-Tests are designed to give senior independent schools information about prospective pupils' attainment and potential before further assessment in Year 8. The tests are commissioned from GL Assessment which has long been associated with providing high-quality and reliable assessments in education. The tests are normally taken in Year 6 or Year 7 when a pupil is between 10 and 12.
The key features of the tests are:
they cover verbal reasoning, non-verbal reasoning, English and mathematics
they are online and adaptive
they are in a multiple-choice format
they take about two-and-a-half hours to complete (English 25 minutes, mathematics 50 minutes, non-verbal reasoning 32 minutes, verbal reasoning 36 minutes)
the four tests can be taken together or at separate times; in the candidate's school, at the senior school for which he or she is entered or at an independent testing centre
candidates are registered by the senior school(s) for which they are entered
results are available to all senior schools which register the same candidate, and therefore a candidate need only sit the test once for a range of senior schools
full technical support is given to schools that use the tests
the tests are unique to ISEB and are standardised for the independent sector
https://www.iseb.co.uk/Schools/General-information/Common-Pre-Tests
Some examples from our 11 Plus Independent School papers: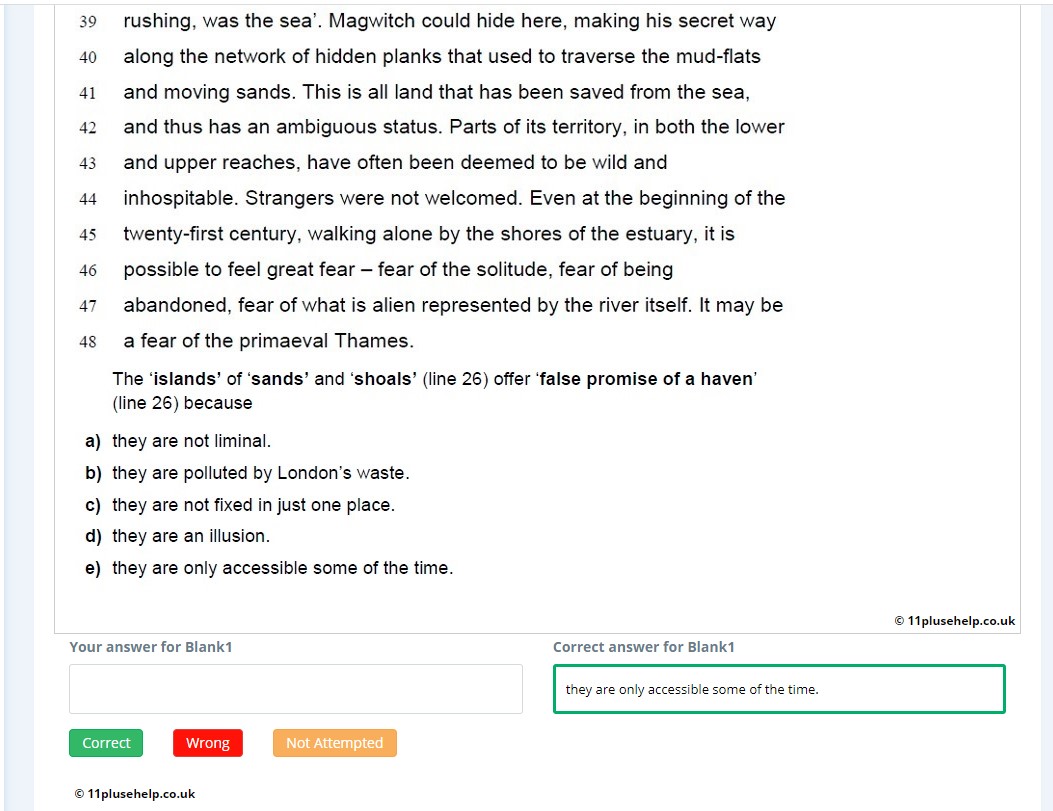 To access Virtual Mock Exams, please visit:
https://11plus-mockexams.co.uk/
You can access 11 Plus FREE Papers by visiting the below link:
https://www.11plusehelp.co.uk/11-plus-free-online-papers
You can access 11 Plus FREE Sample Papers by visiting the below link:
https://www.11plusehelp.co.uk/11-plus-sample-papers
11 Plus complete solution features:
https://11plusehelp.co.uk/blog/2017/05/01/11-plus-complete-solution/
Practice and Perseverance Over Genius and Talent
Thanks,