11 Plus Syllabus Topics
Are you looking for different 11 plus topics that are important to prepare for 11 plus entrance exams? You have come to the right place to provide a list of topics in different subjects like English, Maths, Verbal Reasoning and Non-Verbal Reasoning.
Entrance exams conducted by 11 plus Independent Schools, Grammar Schools, or other private schools contain questions on different topics. Most of the schools have their own 11 plus syllabus in which 11 plus topics differ. You can access all different topics of all subjects in one place "11plusehelp.co.uk ".
Online practice for 11 Plus exams is the best and most affordable option as the child can do their online tests at any time. 11plusehelp.co.uk is an online platform where various tests are provided with in-depth explanations making the child ready for exams. In addition, the child can take tests at their own convenience and pace, making them comfortable with learning and revising as and when they want.
We also have loads of Verbal Reasoning and Non-Verbal Reasoning questions useful for preparing CEM, CSSE and GL assessment and any other 11 Plus entrance examinations in the UK. Our question types are similar to 11 Plus Entrance Exam Questions.11 Plus Topics in different subjects:
Learning Mathematics is an amazing experience if it is taught in a proactive interesting, and correct way. It is better to start 11 Plus Mathematics preparation from Year Three to get a good foundation for future studies.
Language learning aims to express something, whether it may be feelings, thoughts, or emotions. Rather than giving information, 11plusehelp.co.uk aims to make students proficient in English and augment their Vocabulary and communication skills through various practice tests. We specially designed a platform for creative writing to display one's writings to spotlight the child's innate talent. 11plusehelp.co.uk paves a path for the child to perfect their language craft.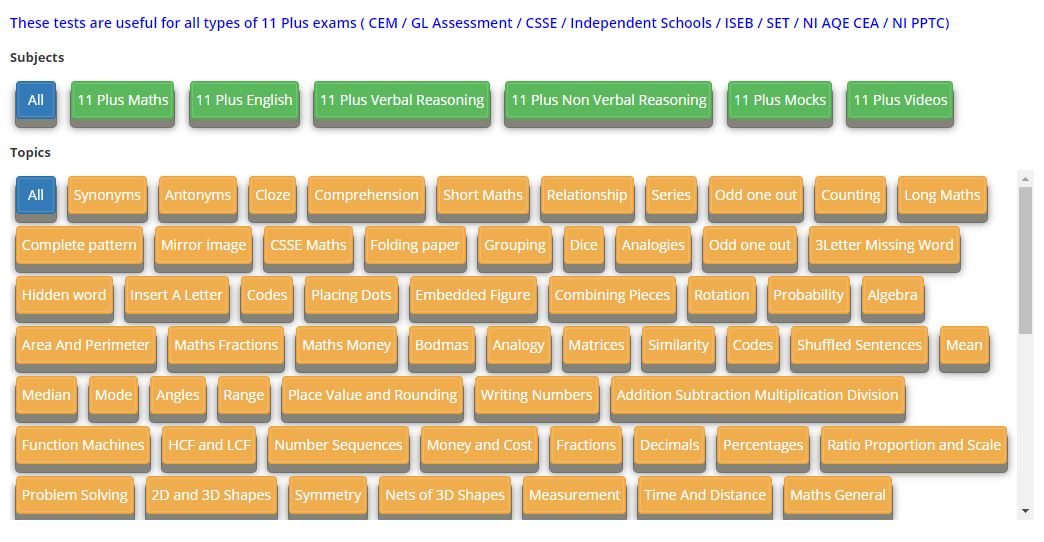 11 plus verbal reasoning test requires understanding, logical thinking and analytical ability to answer the question framed in words using the concepts of reasoning. 11plusehelp.co.uk helps your child improve logical thinking and analytical ability by providing many 11 plus verbal practice tests.
11 Plus Verbal-Reasoning is one of the main parts which challenges you in the 11+ exam. 11 Plus Verbal Reasoning tests your comprehension skills rather than testing your book knowledge. It is defined as "Understanding and comprehending using concepts formed in words." With no school teaching these skills to children, it is essential to learn them from other resources.
11 plus non-verbal reasoning contains questions in the form of figures or pictures. Children need to understand the given visual information and solve the question. To understand and solve such types of questions, children need to use their logical and analytical skills. No prior knowledge of any subject is not necessary to solve non-verbal reasoning questions asked in 11 plus entrance exams, and you need a logical thinking brain.
We provide a good number 11 Plus downloadable resources like 11 Plus Generic Syllabus, 11 Plus Tips, Creative Writing Tips and Sample Creative Writings, Maths Bodmas, Algebra & Probability etc. You can download all the resources if you've taken the subscription.
Here you can complete information about 11+ Maths topics,11 Plus English syllabus topics,11+ Verbal Reasoning topics and 11+ Non- Verbal Reasoning topics.
Along with all this, we've also got Independent School Test Papers, Flash Cards, Videos and many more.
We insist on starting with your weak areas. The 11 Plus English section and others say the 11 Plus Non-Verbal Reasoning. What's yours?
Start working on that/those areas while also spending some time on your strong areas.
Progress from the practice questions to the sample tests and then to the previous independent/ private school practice tests to admit your dream grammar school.
You can check out the features of 11PluseHelp.co.uk here:
You can access 11 plus mock exams on all 11 plus topics at 11Plusehelp.co.uk by visiting the below links:
https://www.11plusehelp.co.uk/11-plus-mock-tests
https://www.11plusehelp.co.uk/user/mock_test
https://www.11plusehelp.co.uk/11-plus-free-online-papers/11-plus-mocks.
11 Plus Tests can be availed at one's convenience and are assessed immediately after giving the 11+ Test Paper, and results are displayed. Quick analysis and proper explanation are provided to each question soon after the 11 Plus Online Test to understand and overcome their difficulties. In addition, we provide multiple-choice format practice papers for all topics in the national 11+ curriculum. Here is an example of a clear explanation of a problem related to the 11+ exam :
https://www.11plusehelp.co.uk/blog/2021/06/02/grammar-schools-registration-and-exam-dates/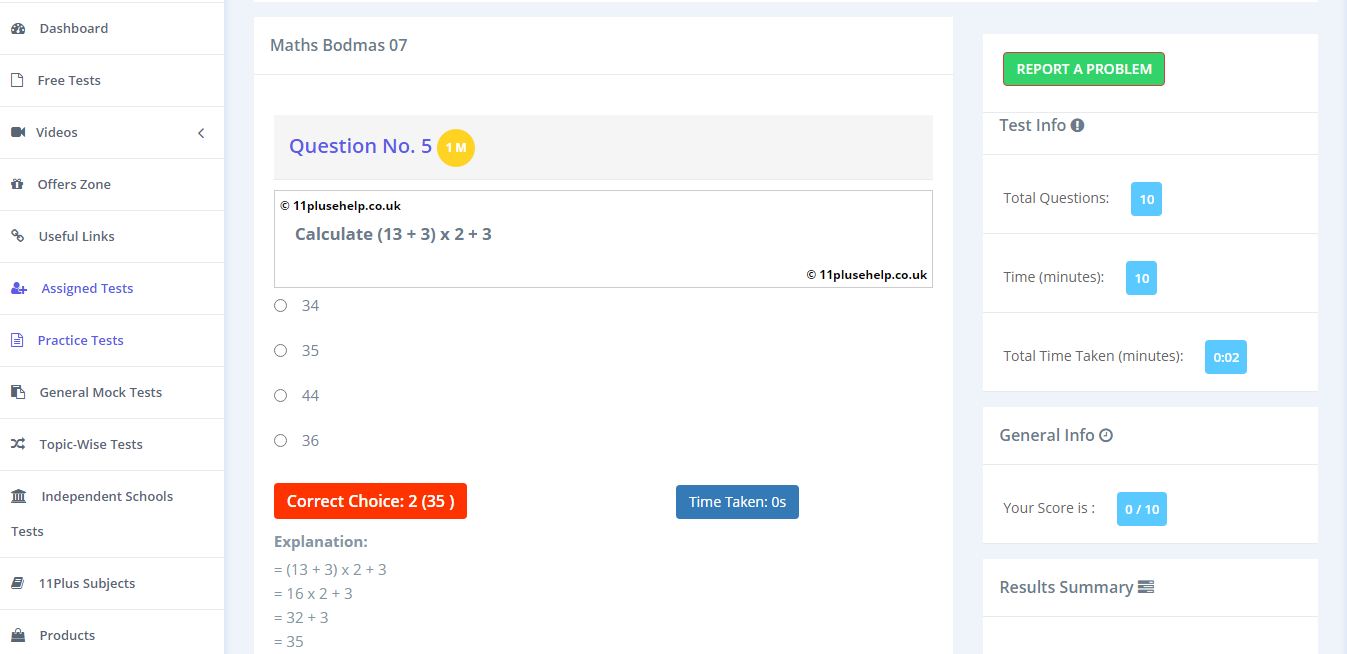 We focus on fundamentals, logic, and basics and cover most of the UK syllabus for all 11 Plus exam patterns to improve the core skills. For example, We cover Maths papers topic wise questions and fundamentals and how to apply them. In addition, we have various test papers, time-based, short, long and various types, including standard mocks. All these tests lead to perfect practice, and the child should be fully prepared to face any 11 Plus Grammar School tests or Independent Schools tests.
We have 11 Plus maths practice test papers whose pattern is the same as grammar school maths tests, independent school maths tests, or any private school maths tests. In addition, we've provided 11 plus maths worksheets and 11 Plus Maths Exam papers that can be used to enable students to monitor the progress of their self-learning.
These practice tests or sample papers contain multiple-choice questions or blank answer type questions, and explanations are also provided for the questions. In addition, we provide fundamentals behind the questions so that the child can develop logic and solve every question given. We provide different 11 Plus Practice English papers.
To access Virtual Mock Exams, please visit https://11plus-mockexams.co.uk/.
You can access 11 Plus FREE Papers by visiting the below link:
https://www.11plusehelp.co.uk/11-plus-free-online-papers
You can access 11 Plus FREE Sample Papers by visiting the below link:
https://www.11plusehelp.co.uk/11-plus-sample-papers
11 Plus complete solution features:
https://www.11plusehelp.co.uk/blog/2017/05/01/11-plus-complete-solution/
Practice and Perseverance Over Genius and Talent
Thanks,