11 Plus Practice Papers
11PluseHelp.co.uk is a one-stop-shop for 11 Plus preparation including 11 Plus Independent schools preparation.
We provide 11 plus practice papers online and 11 plus practice papers free, designed in three mediums: Easy, Medium and Difficult, which prepares every child from basics to advanced level.
You can have unlimited online practice on 11 Plus subjects - 11 plus English, 11 plus Maths, 11 plus Verbal Reasoning and Non-Verbal Reasoning.
Our 11 plus practice tests are the best preparation to help build confidence.
Practice tests are available for the following subjects: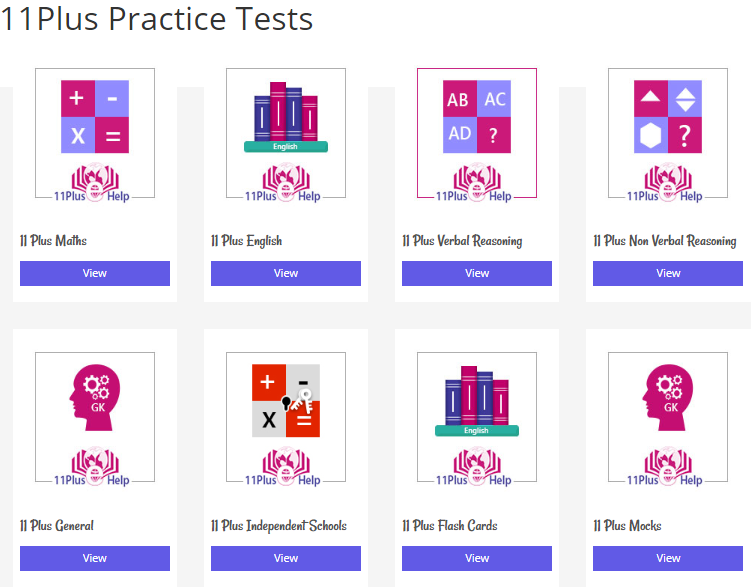 11+ tests vary from area to area. Whether your child is preparing for the CEM or GL Assessment or CSSE or Independent School 11+ Tests, these 11 plus tests provide realistic practice.
What is 11 Plus?
The Eleven Plus is an examination conducted to students for governing admission to grammar schools and other secondary schools. It is held for the children of Year 5 or beginning of Year 6 of primary school and is used to identify the most skilled students academically.
Introduced in 1944, the examination was used to interpret which type of state school the student should attend after their primary school education: a grammar school, a secondary modern school, or a technical school for their secondary education.
Grammar schools can differ from modern secondary schools as they take students' admissions based on academic achievement, whereas a secondary modern may not.
There are only about 164 grammar schools in England, some 3,000 state secondary schools, and about 69 grammar schools in Northern Ireland.
The schools select their pupils by means of an examination known as the "11-plus". The typical grammar school test age is considered to be 11, hence the name eleven plus exams.
11 Plus Subjects:
Though the scope and content of this 11 plus test paper are varied from region to region, the 11 plus questions are expected from the subjects namely:
English
Maths
Verbal Reasoning
Non-verbal Reasoning
11 plus exam format:
11 plus test is conducted in two formats.
1. Traditional Format
In this format, your child has to write the answers in the space provided in the 11+ exam paper.
2. Multiple-choice format
In this pattern, the answers for the given multiple-choice questions are to be marked in the separate sheet given.
11+ exam Boards
There are two main exam boards for the 11-plus exam:
GL assessment 11+– previously known as NFER.
CEM 11+ – developed by the Centre for Evaluation & Monitoring at Durham University.
These two boards are the examiners for the 11 plus in virtually all regions where the 11 plus test is still used. Which exam board will be used usually depends on the location of your chosen grammar school. So before you start preparing for the 11 plus test, you need to know which exam board will administer the test.
For Top Independent Schools, please visit below link:
https://www.11plusehelp.co.uk/top-100-independent-schools
For more info on 11PluseHelp.co.uk and 11 plus papers online, please visit:
Parents feedback:
https://www.facebook.com/11PluseHelp/posts/384771388558761
Only resources are downloadable rest of them you can access 24 X 7.
Few important links about 11PluseHelp.co.uk are:
https://11plusehelp.co.uk/blog/category/11-plus-information/
https://11plusehelp.co.uk/blog/2018/05/21/huge-noof-11-plus-resources/
https://11plusehelp.co.uk/blog/2018/04/28/11plus-features/
https://11plusehelp.co.uk/blog/2017/05/01/11-plus-complete-solution/
https://11plusehelp.co.uk/blog/2018/04/03/11-plus-mock-tests-2/
https://11plusehelp.co.uk/blog/2016/12/26/11-plus-independent-schools-preparation-11plusehelp/
https://11plusehelp.co.uk/blog/2017/08/16/11-plus-vocabulary-similar-meanings-easy-way-to-learn-multiple-words/
Let us have some Examples
Example1: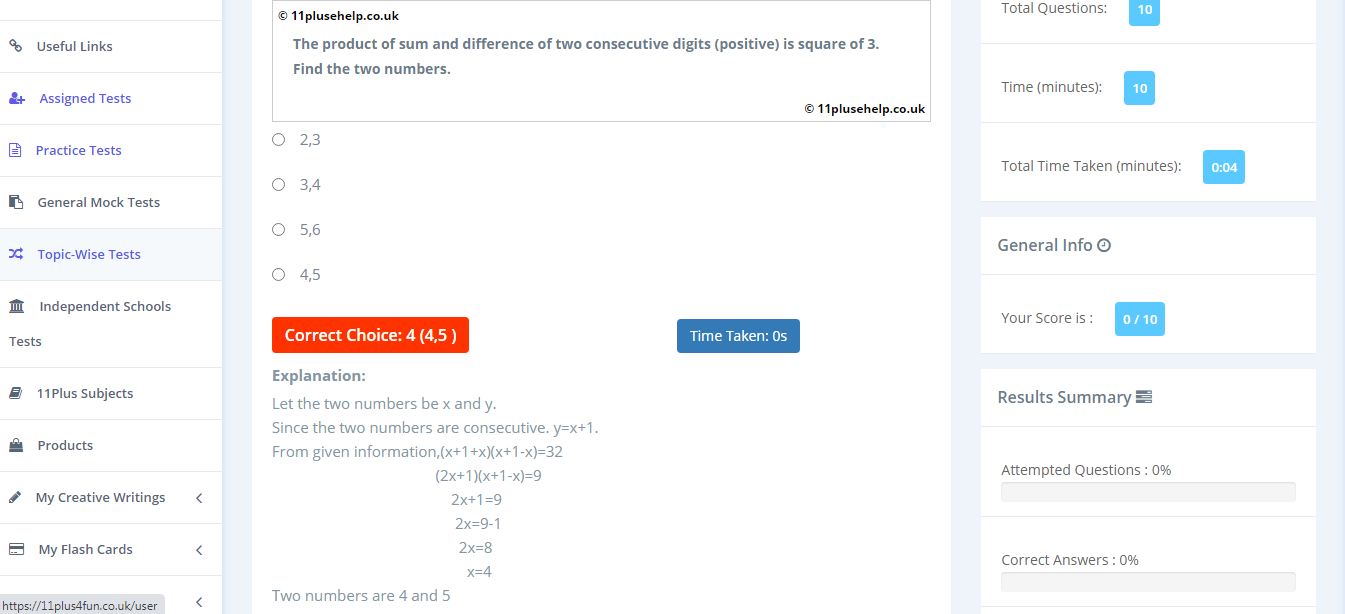 Example2:
Example3: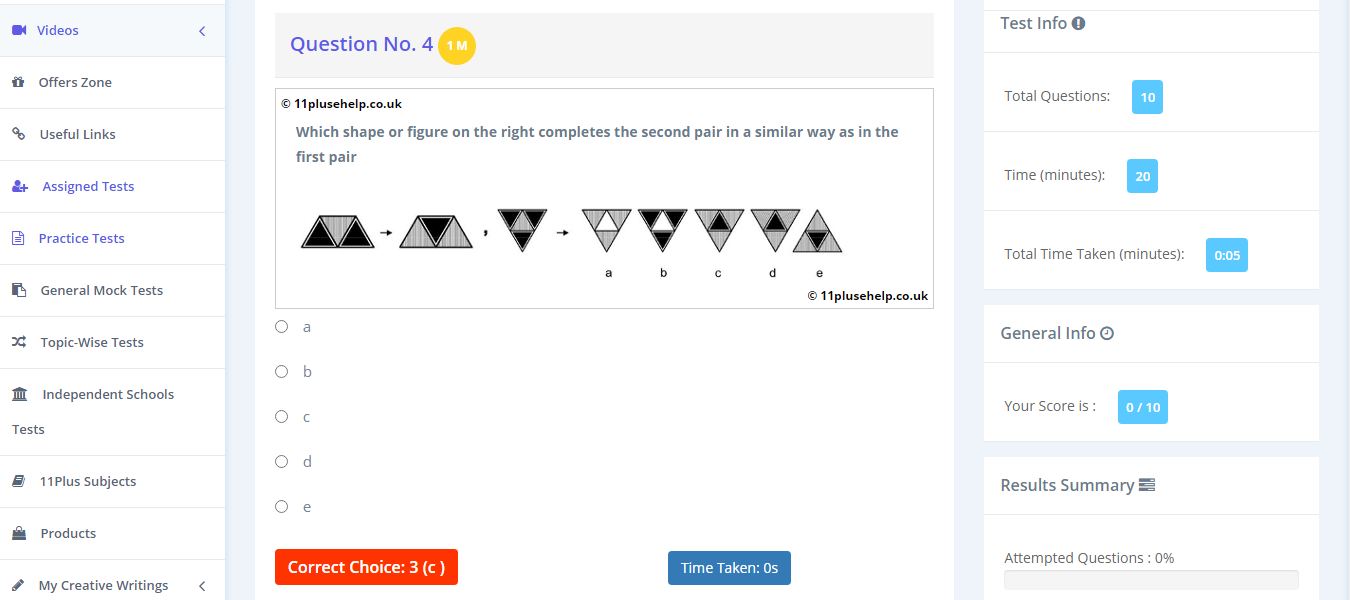 Example4: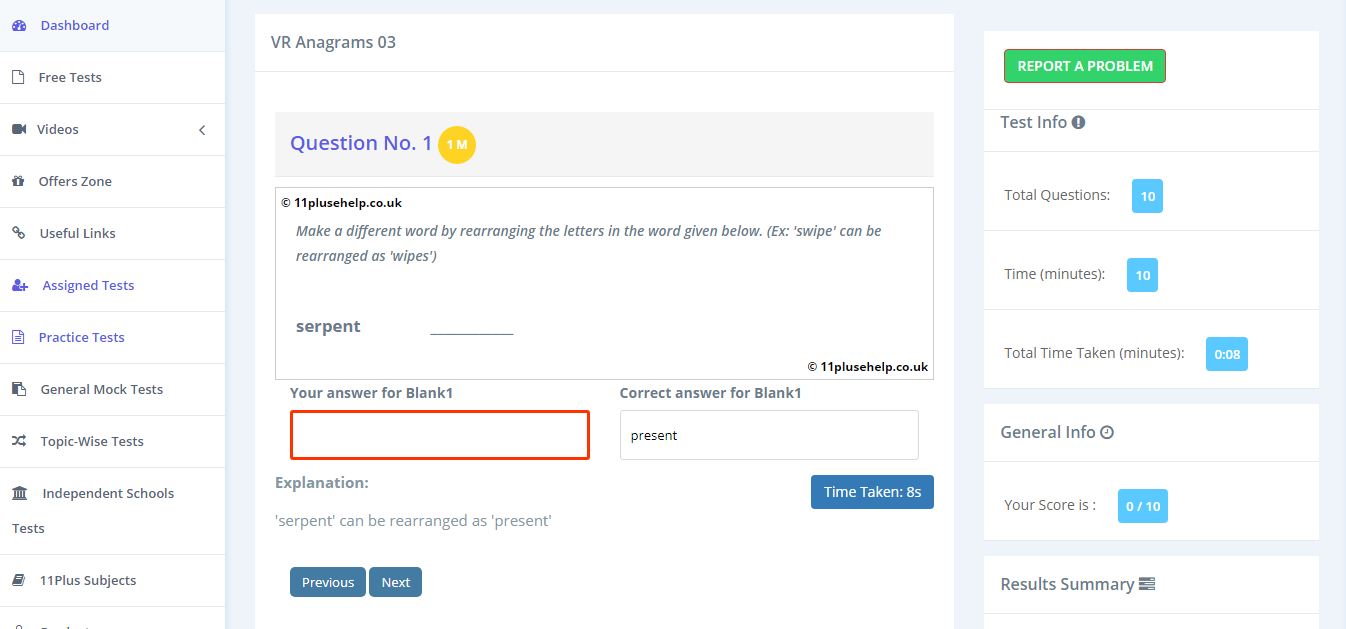 Example5: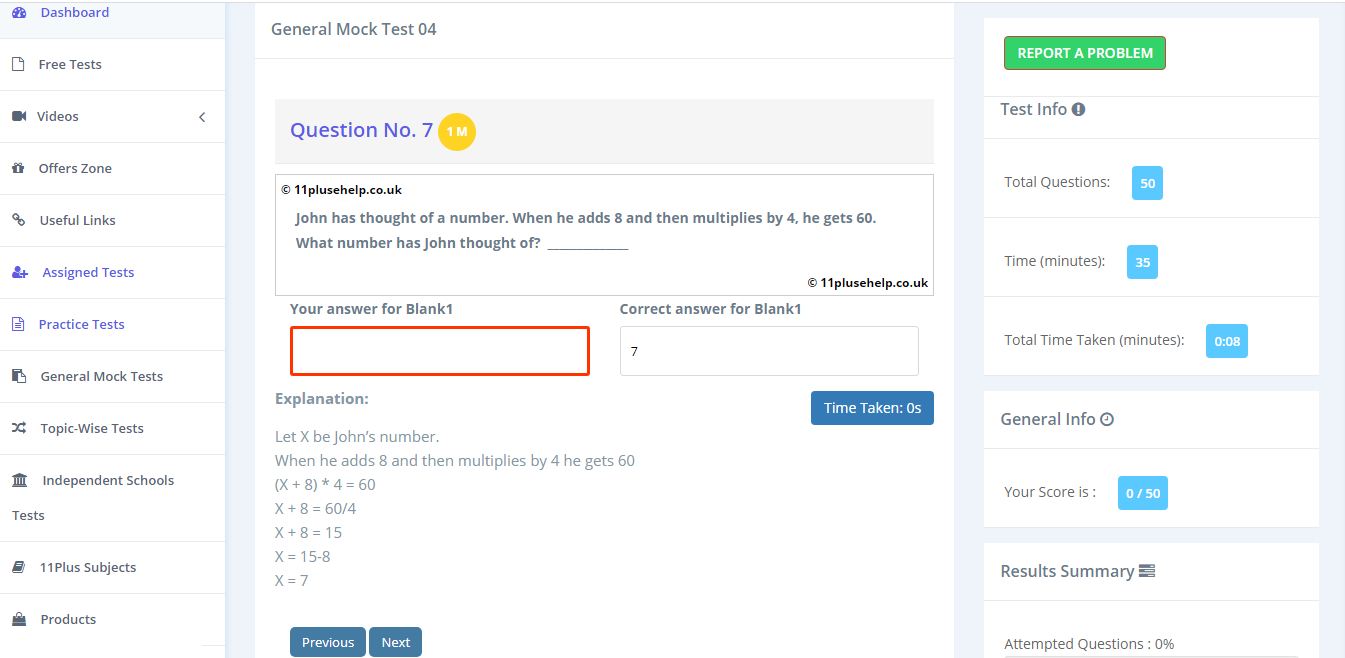 Example6:
Some of the schools 11PluseHelp children achieved so far:
London Grammar schools: QE Barnet (GL Assessment), Henrietta Barnett School, CCHS (CEM), CSSE consortium schools (like KEGS, Westcliff, Colchester Royal etc.), CEM schools (Ilford, Reading), Sutton & Wilson's Schools, Tiffin Boys etc.
For Top Grammar Schools, please visit below link:
https://www.11plusehelp.co.uk/list-of-grammar-schools
Manchester: Altrincham Grammar School etc.
Milton Keynes: Royal Latin Grammar School, Aylesbury Grammar School & Sir Henry Floyd Grammar School, and other schools & regions.
Top Independent Grammar schools like HABS, Hampton, King Edwards, Magdalen boys, City of London school etc. Some students got offers with a scholarship.
We have detailed explanations of all 11 Plus Maths questions, including 11 Plus Independent Maths papers.
New 11 Plus Practice tests and 11 Plus Practice Papers will be added continuously.
We focus on fundamentals, logic, basics and cover most of the syllabus for all 11 Plus exam patterns in the UK. For example, We cover 11 Plus Maths papers topic wise questions and fundamentals and apply them. We have a variety of 11 plus test papers, time-based, 11 plus short, 11 plus long and various types including standard 11 plus mocks. All these 11 plus tests lead to perfect practice, and the child should be fully prepared to face any 11 Plus Grammar School tests or 11 Plus Independent Schools tests.
These tests are useful for preparing CEM, CSSE, GL Assessment, Independent Schools and any other 11 Plus entrance examinations (Grammar schools or Independent schools) in the UK.
Practice Mode - Without any time-limit for all children ( Year 1, Year 2, Year 3 & Year 4 Year 5 or Year 6 children).
For virtual mocks, please visit below link:
https://11plus-mockexams.co.uk/
You can access 11 Plus FREE Papers by visiting below link:
https://www.11plusehelp.co.uk/11-plus-free-online-papers

You can access 11 Plus FREE Sample Papers by visiting below link:
https://www.11plusehelp.co.uk/11-plus-sample-papers
11 Plus complete solution features:
https://11plusehelp.co.uk/blog/2017/05/01/11-plus-complete-solution/
Practice and Perseverance Over Genius and Talent
Thanks,
© 2020 All Rights Reserved.