11 Plus Paragraph Test
Our 11 plus website 11plusehelp.co.uk offers you good test papers online on Cloze Paragraph Test for your perfect practice.
A cloze paragraph test is an exercise or assessment of reading comprehension, and the test taker is asked to supply words that have been systematically deleted from a text.
In these questions, you are given a paragraph with around 5 to 10 sentences with missing words. The list of the missing words is given in jumbled fashion. The child must select the most appropriate word from the options given and fill in the blanks. It is important to understand the flow and context of the passage.
Tips for mastering the cloze test:
Read the passage thoroughly until you get an idea about its theme or context.
Figure out the link between successive sentences. Don't treat them as individual ones.
Pay close attention to keywords that are mentioned before and after the blank.
Look at the options carefully and try to find out the best appropriate word following trial and error method. Words can be based on grammar, prepositions, tenses, vocabulary etc.
Example from our sample test paper is given below: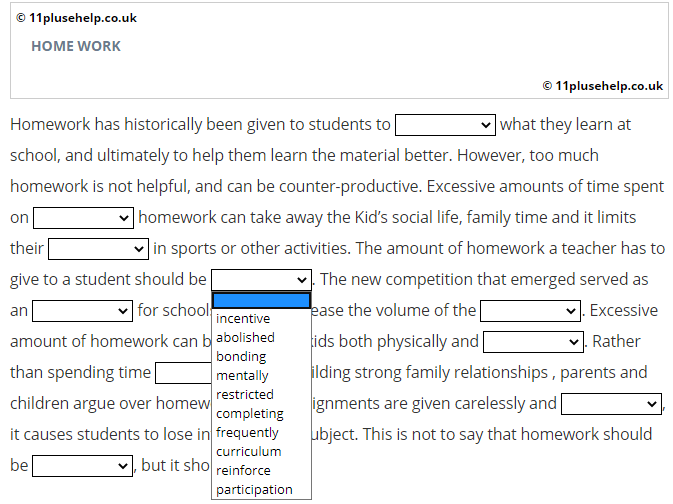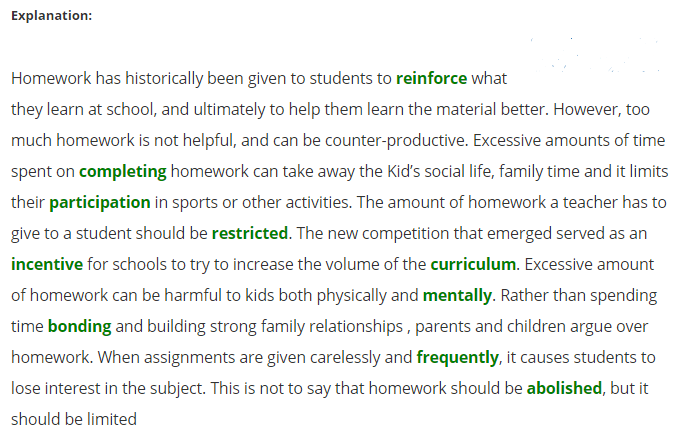 Focussing on core English skills like tenses, grammar, meanings of words, and parts of speech is essential for your excellent performance in the cloze test. Children need to work on developing excellent English language vocabulary while performing these tests. Also, develop the habit of reading more texts.
Access our English 11 plus papers online at:
https://www.11plusehelp.co.uk/11-plus-english-practice-tests
11plusehelp.co.uk is a one-stop-shop for your child to practise 11 plus English questions of different types. We have 11 English practice papers, free practice English verbal tests, 11 plus English comprehension papers, 11 plus English sample papers of all exam boards, 11 plus English past papers including mock test English.
Doing lots of tests will expose children to new words every time. Moreover, the words they come across should be learnt adequately for sustainable performance improvement activity.
So to make this possible, vocabulary learning is made easy with all-new Vocabulary My Flash Cards at 11plusehelp.co.uk. Our innovative personalised Flash Card feature unveils the power of a child's subconscious brain to remember new words forever. Our Flash Card feature allows the child to add his/her notes for each vocabulary word in Flash Card. The child can also mark his/her favourite words so that they can be revisited at any time.
Flashcards feature https://www.11plusehelp.co.uk/11-plus-flashcards.
At 11PluseHelp.co.uk, we have many synonyms, antonyms, and spelling tests to improve children vocabulary and spelling skills. We have loads of questions useful for the test preparation of any grammar school test-CEM, CSSE and GL assessment and other 11Plus entrance examinations in the UK and Northern Ireland.
At 11plusehelp.co.uk, we possess the following resources:
Maths- 11 Plus Maths Worksheets, 11 Plus Maths Papers free download, 11 Plus Maths topics pdfs.
English- 11 Plus English papers with answers, 11 Plus comprehension with answers, 11 English comprehensions multiple-choice, English reasoning test.
Verbal and Non-Verbal Reasoning- 11 Plus Verbal Reasoning worksheets free, Verbal and Non-Verbal Reasoning tests, easy Non-Verbal Reasoning Worksheets
Practice Tests- Eleven plus sample papers, free 11 plus papers with answers, 11 plus mock test papers pdf, 11 exam question and answers, UK 11 plus exam questions, 11 online tests in Maths and English with 11 Plus answers.
11 Plus Revision Pack:https://www.11plusehelp.co.uk/11-plus-practice-papers/11-plus-english-practice-test-papers/revision-pack
We constantly innovate and come up with powerful techniques to help the child succeed in eleven plus.
To access Virtual Mock Exams, please visit: https://11plus-mockexams.co.uk/
You can access 11 Plus FREE Papers by visiting below link:
https://www.11plusehelp.co.uk/11-plus-free-online-papers

You can access 11 Plus FREE Sample Papers by visiting below link:
https://www.11plusehelp.co.uk/11-plus-sample-papers
11 Plus complete solution features:
https://11plusehelp.co.uk/blog/2017/05/01/11-plus-complete-solution/
Practice and Perseverance Over Genius and Talent
Thanks,
© 2020 All Rights Reserved.