11 Plus Homophones
Homophones are words that sound the same pronunciation but different spelling or meanings. Some homophone pairs are confused homophones.
Types:
There are three types of homophones -
Homographs – Words that are similar in spelling but different in meaning and pronunciation are known are homographs.
Homonyms – Words that have the same spelling or pronunciation but different meanings are known are homonyms.
Heterographs – Words that have different spellings but the same pronunciation are known as heterographs.
Examples:
Here are some common examples of homophones in English:
One won
Who's, whose
Their, there
Know, no
Steel, steal
Right, write
Flour, flower
Night, knight
Poor, pour
Tale, tail
Try out these examples: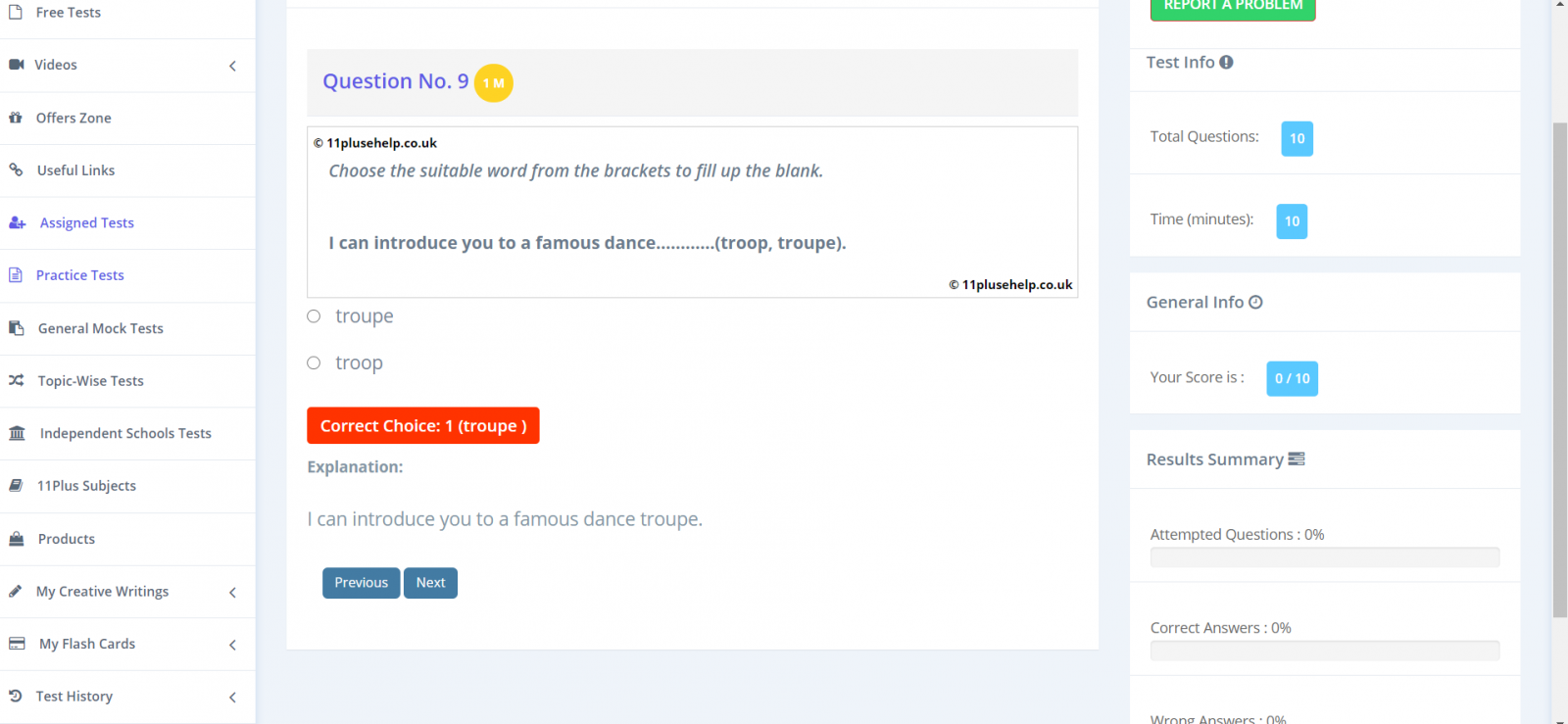 We have exciting 100 examples of homophones list for the 11 exams at 11plusehelp.co.uk:
https://www.11plusehelp.co.uk/11-plus-english-practice-tests
We've also got many entrance exam practice papers on 11 Plus Maths, English, Verbal Reasoning and Non-Verbal Reasoning.
Our free resources range from question types of multiple-choice, pair of words and more in our Independent school English exam, sample papers for the 11 Plus entrance examination and many more.
At 11plusehelp.co.uk, we possess the following resources:
Maths- 11 Plus Maths Worksheets, 11 Plus Maths Papers free download, 11 Plus Maths topics pdfs.
English- 11 Plus English papers with answers, 11 Plus comprehension with answers, 11 English comprehensions multiple-choice, English reasoning test.
Verbal and Non-Verbal Reasoning- 11 Plus Verbal Reasoning worksheets free, Verbal and Non-Verbal Reasoning tests, easy Non-Verbal Reasoning Worksheets
Practice Tests- Eleven plus sample papers, free 11 plus papers with answers, 11 plus mock test papers pdf, 11 exam question and answers, UK 11 plus exam questions, 11 online tests in Maths and English with 11 Plus answers.
We also have 11 plus resources for parents with 11 plus guide.
Our Independent School resources include-
Grammar school test papers with answers
KENT- KENT test practice papers, KENT 11 Plus
Bexley - Bexley 11 Plus Test, Bexley 11 Plus Solved Papers, Bexley 11 Plus Comprehension with Answers
KS2- Maths Reasoning KS2, Online Math Test KS2
CEM - CEM assessments, CEM 11 papers pdf, CEM 11 Familiarization papers
GL assessment sample papers free, 11 Plus Mock Tests Berkshire, 11 Plus Mock Exams Essex, Buckinghamshire 11 Plus 2019 Solved
Our guided English revision technique will help you prepare your child to leap from primary school to your dream grammar school. Be it a private school or a selective school in North London, Northern Ireland and the rest of England, and you can ace them all.
To access Virtual Mock Exams, please visit:
https://11plus-mockexams.co.uk/
You can access 11 Plus FREE Papers by visiting the below link:
https://www.11plusehelp.co.uk/11-plus-free-online-papers

You can access 11 Plus FREE Sample Papers by visiting the below link:
https://www.11plusehelp.co.uk/11-plus-sample-papers
11 Plus complete solution features:
https://11plusehelp.co.uk/blog/2017/05/01/11-plus-complete-solution/
Practice and Perseverance Over Genius and Talent
Thanks,
© 2020 All Rights Reserved.