11 Plus Exam Boards
If you are preparing your child for 11+ exams, you need to be aware of the boards which conduct these exams. Learning about exam boards helps you to know the style, pattern of the exam conducted by them. This information makes your child's 11+ preparation easier and more comfortable.
11PluseHelp.co.uk is a one-stop-shop for all 11+ exam preparation containing loads of 11 Plus Practice papers, 11+ Independent Past Papers and many more. We provide loads of information regarding 11+ Exam boards, 11+ Regions etc.
Go through the article below to know about CEM and GL boards:
11+ CEM Exam Board:
CEM stands for The Center of Evaluation and Monitoring at Durham University. It is designed for selective independent schools, selective state schools, and over-subscribed non-selective state schools.
Exam Format:
The CEM exam format is unknown and changes every year. The exam may have a multiple-choice approach, a standard open-answer format or a mix of the two depending on how the school operates. The CEM paper encompasses two sections with a combination of subjects. Time constraint is specified to each section.
Go through our article regarding the 11 Plus CEM Exam to know more about it:
https://www.11plusehelp.co.uk/11-plus-exam-papers/11-plus-cem-exam
Subjects covered:
The CEM subjects are 11+ Numerical reasoning,11+ Non-verbal reasoning, 11+ Verbal reasoning.
The CEM paper encompasses two sections with a combination of subjects:
CEM tests focus mainly on Verbal ability skills. Your child needs to have good skills in the following: Excellent English, Reading and Comprehension, Vocabulary (Synonyms/Antonyms/Clozes), Spellings.
CEM papers are mixed, with one exam combining English and verbal reasoning and another combining maths and non-verbal reasoning.
Standard Format, Multiple Choice, or a combination may be used depending on the school/region.
The paper contains a short maths section, a longer problem-solving exercise, then some logic puzzles. Timings will be allocated to each section, and children will need to manage the time they spend on each section carefully.
In CEM exams, there will typically be more questions that are likely to be answered in the time allocated, and the weighting of each subject for your child's final mark will be unknown before the exam.
Resources:
CEM provides tutor proof exam papers. They do not publish any CEM past papers. It has been designed to conduct a fair exam and reduce the predictability of content in the 11+ assessment.
Regions:
Berkshire, Bexley, Birmingham, Buckinghamshire, Devon, Gloucestershire, Shropshire, Walsall, Warwickshire, Wirral, Wolverhampton.
Check out the link below to know more about 11 Plus Regions:
https://www.11plusehelp.co.uk/11-plus-regions.
There are many practising exam papers for GL assessment, non-verbal reasoning tests, and verbal reasoning tests that are used to get a seat in selective school.11plusehelp.co.uk also provides the parent guide.
We have loads of 11 Plus Online Tests helping your child to get into their desired schools which follow 11+ CEM, 11+ GL Assessment patterns, Independent Schools and other 11 Plus entrance examinations in the UK. Check out the below links to have access to 11 Plus GL Assessments and CEM Practice Papers:
https://www.11plusehelp.co.uk/blog/2020/05/08/11-plus-gl-assessment-practice-papers/.
https://www.11plusehelp.co.uk/11-plus-exam-papers/cem-practice-papers-11-plus-exam.
Some local authorities conduct their own unique entrance exam. The basic principles of Maths, English, Verbal reasoning and Non-Verbal Reasoning of the child will be tested in their transfer test paper.
11 Plus Online Tests can be availed at one's convenience and are assessed immediately after giving the 11+ Test, and results are displayed. Quick analysis and proper explanation are provided to each question. Here is an example of a clear explanation of a problem related to the Eleven Plus exam :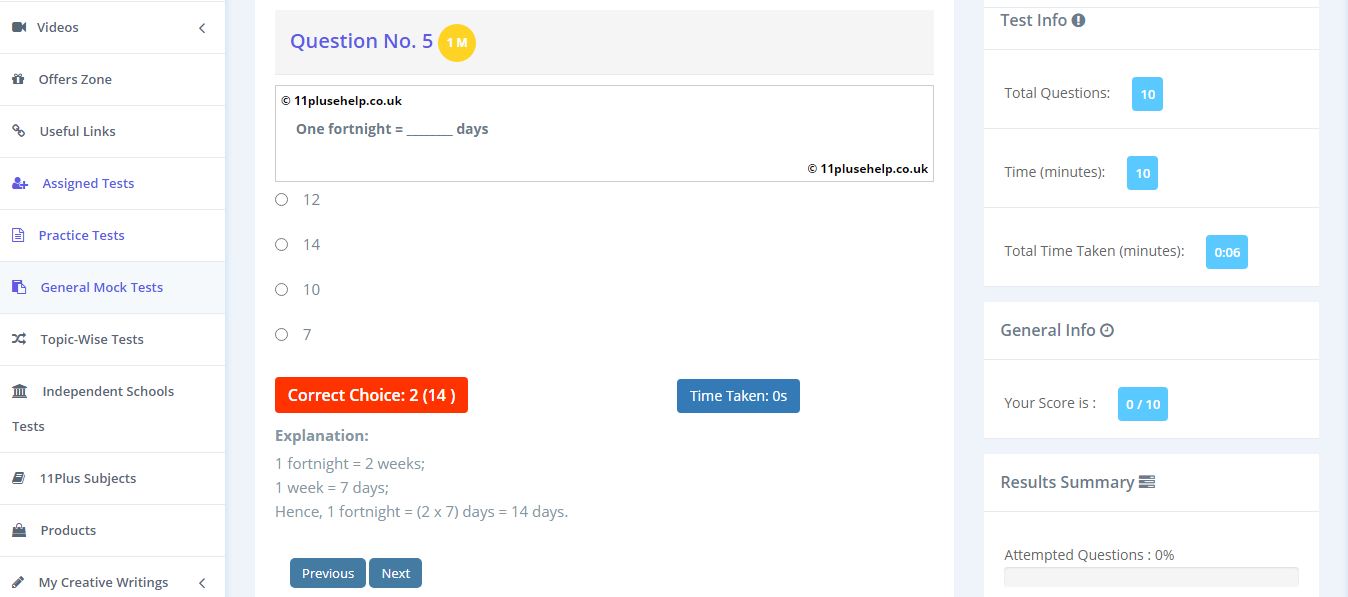 11+ GL Assessment:
GL stands for Granada Learning, the leading independent body conducting 11+ Exams and provides formative assessments to the top UK schools. The National Foundation for Educational Research founds it (NFER), earlier called NFER-Nelson's, formally became part of the Granada Learning Group in 2000.
Exam Format:
Questions are framed in 2 formats, namely standard format and multiple-choice format. Generally, the multiple-choice format is widely used. But in 11+ verbal and 11+ Math tests written answer scheme is used.
The exam lasts for 40 to 50 minutes, sometimes an hour. A typical question paper contains 40 questions that should be answered within 45 minutes.
Check out our article regarding the 11 Plus GL Assessment Exam to know more about it:
https://www.11plusehelp.co.uk/11-plus-gl-assessment-exam
Subjects covered:
GL board covers 11+ Maths,11+ English, 11+ Verbal Reasoning, 11+ Non-Verbal Reasoning. A combination of the above subjects is used to ensemble the school policies.
11 Plus FREE GL Assessment Online Papers:
https://www.11plusehelp.co.uk/11-plus-free-online-papers/11-plus-maths/gl-assessment.
Region:
NOTE: Regions covering both CEM and GL are Devon, Essex, Hertfordshire, Trafford, Yorkshire.
Dorset, Kent, Lancashire & Cumbria, Lincolnshire, Medway, Northern Ireland, Wiltshire. Do check out our article regarding the 11 Plus CSSE board to get deep insights:
https://www.11plusehelp.co.uk/11-plus-exam-boards/11-plus-csse.
Resources:
The questions that appear in this exam are derived from GL Question Bank, containing 18,000 questions.
Do check out our article Difference Between CEM And GL:
https://www.11plusehelp.co.uk/difference-between-cem-and-gl.
11PluseHelp.co.uk provides loads of CEM and GL Mock Tests, 11+ Online tests,11+ Practice Papers resembling CEM paper. We offer unlimited online practice on all CEM and GL subjects.
Check out the link below to know more about CEM 11 Plus Verbal Reasoning Question types:
https://www.11plusehelp.co.uk/blog/2020/05/19/cem-11-plus-verbal-reasoning-question-types/
Your child can avail of 11 plus GL Assessment Practice Papers on our website. Go through the link below:
https://www.11plusehelp.co.uk/blog/2020/05/08/11-plus-gl-assessment-practice-papers/

To access Virtual Mock Exams, please visit: https://11plus-mockexams.co.uk/
You can access 11 Plus FREE Papers by visiting the below link:
https://www.11plusehelp.co.uk/11-plus-free-online-papers
You can access 11 Plus FREE Sample Papers by visiting the below link: https://www.11plusehelp.co.uk/11-plus-sample-papers
11 Plus Complete solution features: https://11plusehelp.co.uk/blog/2017/05/01/11-plus-complete-solution/