11 Plus Antonyms
An ample amount of 11 plus sample questions on Antonyms are available at our 11 plus website 11plusehelp.co.uk for revision.
Antonyms are words that are opposite in meaning to the given the word. These are also termed opposite words.
Opposites tests are common in every 11 Plus test, either for an 11 plus grammar school tests or an independent school test.
List of Antonyms
Accept x decline
Diligent x lazy
Attack x defend
Smart x stupid
Continue x interrupt
Important x trivial
Boring x interesting
Deep x shallow
Virtue x vice
Notice x Overlook
Messy x neat
Courage x coward
Abridge x expand
The 11 plus questions on antonyms are asked in such a format to select a word from four words under given options which is most opposite in meaning to the given the word.
Let's have a look at our question types.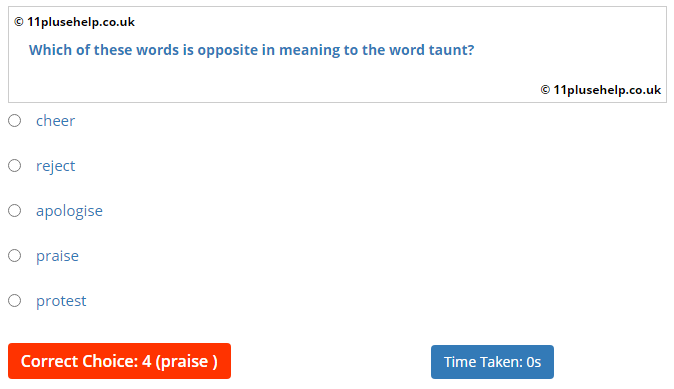 To excel in answering these questions, firstly, you need to find out the meaning of the given word. Only then you can come up with the words that sound opposite to them. Children need to develop excellent English vocabulary and spelling skills and apply those skills while performing these tests.
Access our English 11 plus papers online at:
https://www.11plusehelp.co.uk/11-plus-english-practice-tests
11plusehelp.co.uk is a one-stop-shop for your child to practise 11 plus English questions of different types. We have 11 English practice papers, free practice English verbal tests, 11 plus English comprehension papers, 11 plus English sample papers of all exam boards, 11 plus English past papers, including mock test English.
Doing lots of tests will expose children to new words every time. Moreover, the words they come across should be learnt adequately for sustainable performance improvement activity.
So to make this possible, vocabulary learning is made easy with all-new Vocabulary My Flash Cards at 11plusehelp.co.uk. Our innovative personalised Flash Card feature unveils the power of a child's subconscious brain to remember new words forever. Our Flash Card feature allows the child to add his/her notes for each vocabulary word in Flash Card. The child can also mark his/her favourite words to be revisited at any time.
Flashcards feature: https://www.11plusehelp.co.uk/11-plus-flashcards.
At 11PluseHelp.co.uk, we have many synonyms, antonyms, and spelling tests to improve children vocabulary and spelling skills. We have loads of questions useful for the test preparation of CEM, CSSE and GL assessment and any other 11Plus entrance examinations in the UK and Northern Ireland.
We constantly innovate and come up with powerful techniques to help the child succeed in eleven plus.
11 Plus Revision Pack:https://www.11plusehelp.co.uk/11-plus-practice-papers/11-plus-english-practice-test-papers/revision-pack
To access Virtual Mock Exams, please visit: https://11plus-mockexams.co.uk/
You can access 11 Plus FREE Papers by visiting the below link:
https://www.11plusehelp.co.uk/11-plus-free-online-papers

You can access 11 Plus FREE Sample Papers by visiting the below link:
https://www.11plusehelp.co.uk/11-plus-sample-papers
11 Plus complete solution features:
https://11plusehelp.co.uk/blog/2017/05/01/11-plus-complete-solution/
Practice and Perseverance Over Genius and Talent
Thanks,
© 2020 All Rights Reserved.